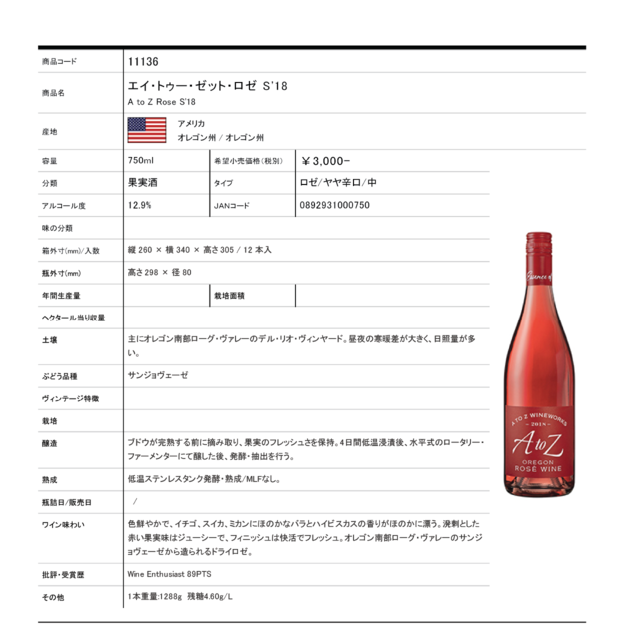 【S11136】エイ・トゥー・ゼット ロゼ S'18 A to Z Rose S'18
*This item will be delivered on 5/26(Thu) at the earliest.
Japan domestic shipping fees for purchases over ¥10,450 will be free.
Shipping fee is not included. More information.
【プレミアム・オファー | Premium Offer】
購入条件:スペシャル・オファー、又はVCセットと一緒にご購入下さい
Must buy at least 1 set from SPECIAL OFFER or VC Set ranges to purchase this item

産地:オレゴン州
品種:サンジョヴェーゼ
定価:¥3,300
サンジョヴェーゼ種から造られる色鮮やかなドライロゼ。イチゴ、スイカ、ミカンにほのかなハイビスカスの香りがほのかに漂い、ジューシーな果実味が心地よく広がる。アペリティフから揚げ物やスパイシーな料理まで、幅広く楽しめる万能タイプで、春から夏にかけリフレッシュするには最適なロゼ。
Wine Enthusiast 89PTS


Region: Oregon
Variety: Sangiovese
RRP:¥3,300
An attractive pale salmon pink introduces lifted, perfumed aromas of fresh strawberries and raspberries, with notes of ripe rock melon, tropical fruit and sweet spices. In the mouth it is round and full, with fresh red berry and tropical fruit flavours balanced by tangy, salivating acidity on the finish.
This shop sells alcoholic beverages. Drinking under the age of 20 is prohibited by law.
Add to Like via app
Shipping method / fee

Payment method
プレミアム・オファーの商品をご購入される条件として、VCセット、又はスペシャル・オファーを購入する必要があります。条件を満たしていない場合、後ほどご連絡をさせて頂きます。

Please note, you must purchase at least one of the VC sets or Special Offer sets in order to purchase from Premium Offers.