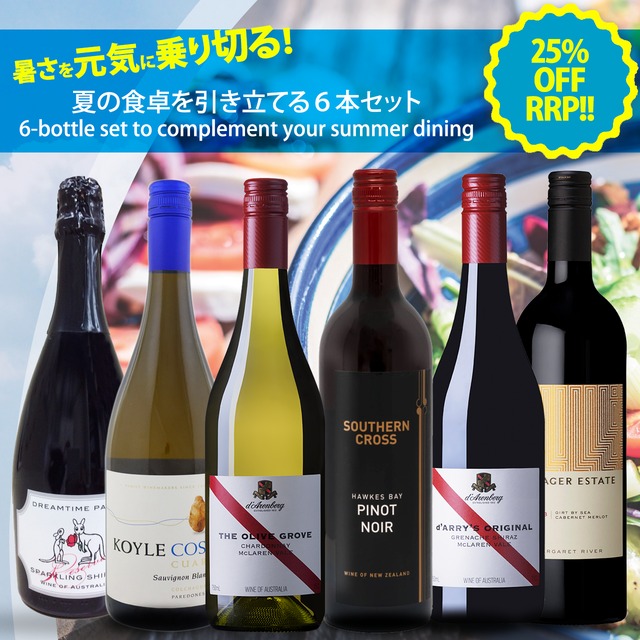 【SP217】夏の食卓を引き立てる6本セット(発泡赤1本・白2本・赤3本) | A 6-bottle selection to complement your summer dining(1 sparkling red, 2 white, 3 red)
*Earliest delivery date is 8/16(Tue) (may require more days depending on delivery address).
Japan domestic shipping fees for purchases over ¥10,450 will be free.
Shipping fee is not included. More information.
夏バテ防止のためにも栄養豊富な旬の食材をおいしくいただきましょう!赤のスパークリング・リザーヴ・シラーズは、クナワラの銘醸畑の単一年ワインをベースに造られた掘り出し物。
今年のオープンセラーでバーベキューランチのお供にも大好評でした。きりっと冷やして食前酒はもちろん、鉄分豊富な赤身の魚や鰻、焼きとりと相手を選びません。
コイレのSBはきゅうりとわかめの三杯酢と合わせてみてください。多様性と包容力あるダーレンベルグも大活躍します。
各ワインの産地・詳細は画像からご覧ください。

Enjoying nutritious seasonal foods helps to beat the summer fatigue! The red Sparkling Reserve Shiraz is a bargain, based on a single-year wine from a famous Coonawarra vineyard. It was a big hit at this year's Open Cellar served with our mini-barbecue. It can be served crisp and chilled as an aperitif, or with iron-rich red fish, eel, grilled fish, or any other dishes. We suggest pairing Koyle's SB with cucumber and wakame seaweed sanbaizu. The versatile and inclusive d'Arenberg is also a great heat-beating choice.
This shop sells alcoholic beverages. Drinking under the age of 20 is prohibited by law.
Add to Like via app
Shipping method / fee

Payment method
プレミアム・オファーの商品をご購入される条件として、VCセット、又はスペシャル・オファーを購入する必要があります。条件を満たしていない場合、後ほどご連絡をさせて頂きます。

Please note, you must purchase at least one of the VC sets or Special Offer sets in order to purchase from Premium Offers.