* スペシャル・オファーはテーマに合わせて期間限定でご購入頂けるワインセットです。
* Special Offers are seasonal sets with exciting themes.

Available Until the 30th of November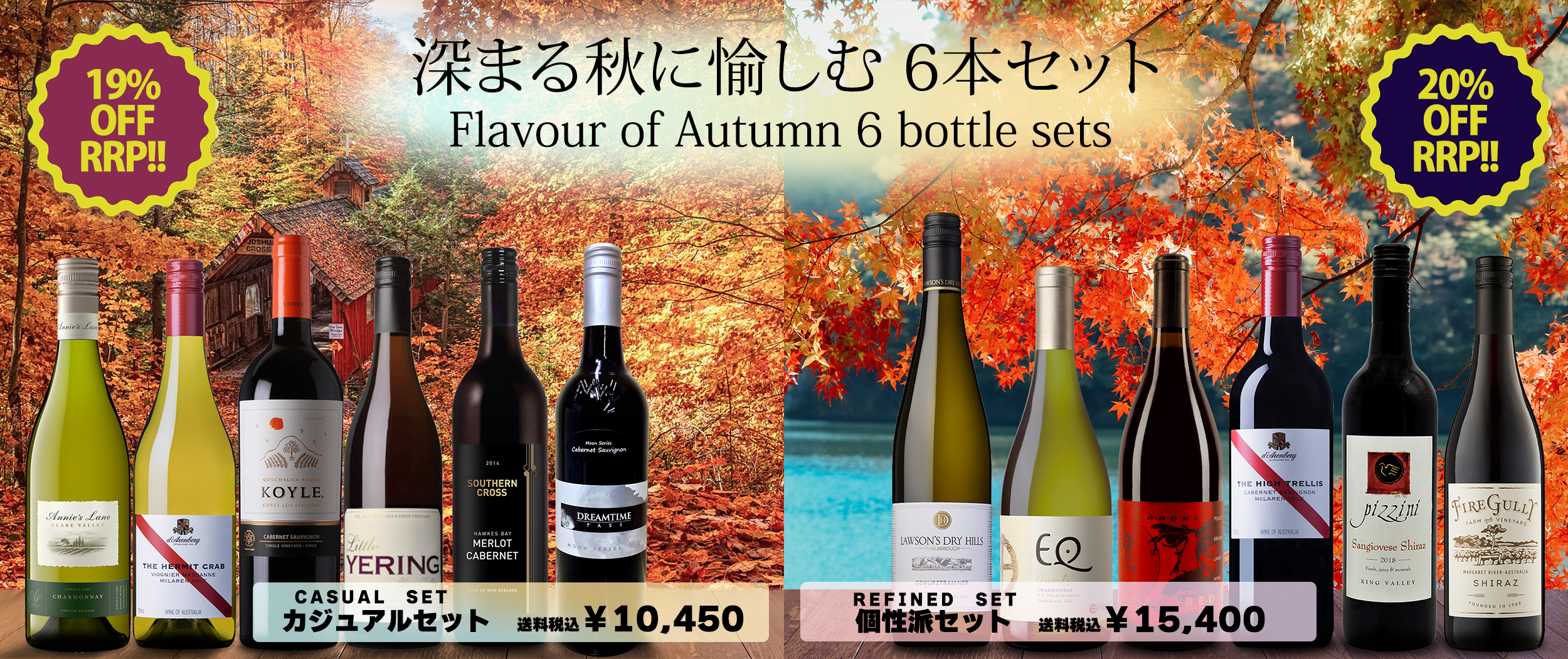 嬉しい食欲の秋がいよいよ到来しました。四季の変わり目は暑かったり、寒かったり、雨が降ったりと、いろいろあります。多様性のあるワインならでその日のムードに合わせた秋の食卓を愉しんでみませんか?味わいのバランスがよく、普段の食事に幅広く寄り添いますカジュアル6本セットと、食卓を優雅に彩る個性派6本セットを御用意いたしました。

プレミアム・オファーにはもう少し贅沢をしたい時にピッタリの4,000円+のプレミアムワイン6種を定価の15-29%OFFで用意しました。また、クリスマスまで泡待てない!という方には豪・NZ赤白スパークリング3本セットを定価より30%OFFでご案内しております。

Autumn is the season for harvest, and hence the season for truly great foods. For this special offer, we are offering two set choices - Casual 6 bottle set with value-for-money, well-balanced wines, and Refined 6 bottle set of elegant and complex wines which are perfect for adding a sense of luxury to home dining.

For premium offer (available for purchase when you purchase special offer or VC set), we have a selection of wines above 4000yen at up to 30% off, for treating yourself even more! For those of us love a glass of bubbley or two or three, there's no need to wait til Christmas. We have a set of three Aussie and Kiwi bubblies for an amazing value of 30%OFF RRP.
スペシャル・オファー | Special Offer
プレミアム・オファー | Premium Offer